If you or someone you know is in immediate crisis, call or text the Canada Suicide Prevention Helpline.

1-833-456-4566 (24 hours a day, 7 days a week)
1-866-277-3553 in Quebec (24 hours a day, 7 days a week)
Text to 45645 (4:00 PM to 12:00 AM ET). Text messaging rates apply. French text support is currently unavailable.
What is mental health?
Mental health relates to our emotional, psychological and social well-being. It is our capacity to think, feel and act in ways that enhance our ability to enjoy life and deal with its challenges.

Mental health problems diminish or interfere with our ability to enjoy life and manage its highs and lows.

1 in 5 people in Canada personally experience a mental health problem or illness in any given year. By age 40, about 50% of the population will have experienced a mental illness.
What causes mental health issues?
There is no one cause, but here are some of the factors that can impact our mental health:
social isolation or loneliness
job stress, including overwork or low work-life balance
traumatic experiences including from childhood
experiencing discrimination and stigma, including racism
financial problems, poverty or debt
bereavement (losing someone close to you)
job insecurity, unemployment or losing your job
The Mental Health Commission of Canada found that 47% of people working in Canada consider their work the most stressful part of their day and life. Odds are you will come across coworkers in need of support or may need some yourself.
Statistics Canada also found how the pandemic has impacted the mental health of people in Canada, particularly youth, racialized folks, and members of the LGBTQ2S community.
Types of leave for mental health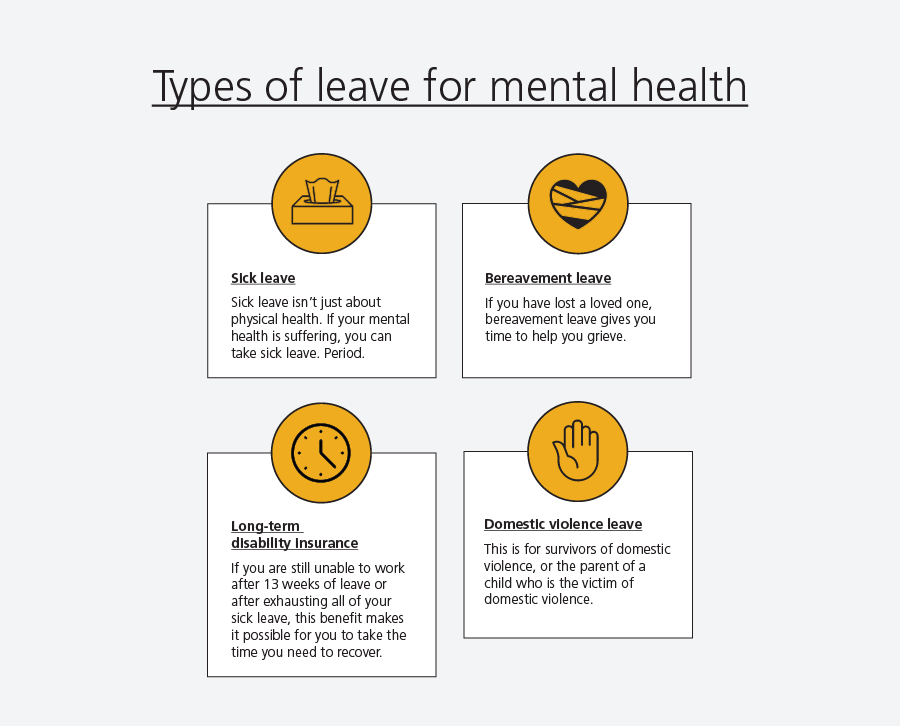 Resources and supports
Employee and Family Assistance Programs
Most PIPSC members with federal, provincial or private employers have access to an Employee and Family Assistance Program (EFAP). Your EFAP provides counseling, referral services, and sometimes other specialized support. All services are confidential and free.

Lumino Health Centre
As part of your Public Service Health Care Plan, you have access to the Lumino Health Centre, a space dedicated to providing health and wellness information.
Extended health care plans Most current and retired PIPSC members and their eligible dependents have access to an extended health care plan designed to supplement public healthcare, including mental health.

General information on mental health
This page from the Canadian Mental Health Association offers fact sheets and other resources on mental health, including coping with loneliness, stress, substance abuse, and more.
PIPSC Mental Health Resource Guide
Pages 3-4 of our resource guide give you more information on how to identify the signs of colleagues who may be suffering, and how to offer support.

Indigenous Friendship Centres
Friendship Centres offer mental health programs alongside broader kinship and community services. If you are Indigenous, visit this page to find a centre near you or other tailored supports.
Workplace Mental Health Webinar
Taking care of your mental health and wellbeing is more important than ever. The Canadian Mental Health Association (CMHA) presented a "Workplace mental health" webinar training for members to talk about the importance of self care in the workplace. Email bettertogheter@pipsc.ca to get a link to watch the webinar!